The Penultimate Guide To Electronic Checks
Electronic checks are still drawing confusion for some reason, so we have decided to answer some of the more frequently asked questions about e-checks. Electronic checks, also known as e-checks, eCheck-US, ACH e-checks, ACH transfers, and simply ACH, are a way to pay for goods and services online that is as simple as writing a check. We have found that online gambling sites regularly add or remove e-checks from their deposit options, but this is still one of the most stable and secure of all deposit methods. Electronic checks, while ostensibly confusing, are some of the best ways to fund – and withdrawal from – an account.
Perhaps the most commonly asked question about e-checks is the question that is asked about every deposit method. Players ask us more about whether or not this deposit option is eligible to USA players than anything else. One of the best parts of e-checks is the fact that they are almost exclusively built for USA players. That having been said, you should not encounter too much trouble if you try to gamble with e-checks from one of the United States.
How to use e-checks is the other commonly asked question regarding this deposit method. The routing number and the account number on a check are both necessary in order to process payments through this service. You will also generally have to supply part of your social security number in order to prove your identity. We have provided an image showing where the routing and account number are, all in order to avoid confusion. The routing number identifies your bank, while the checking account number identifies your account.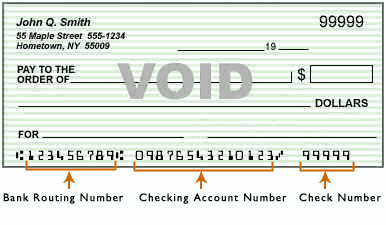 As you can see, both the routing number and account number are on the bottom of the check. Their order may be reversed – the checking account number could be first, with the routing number second.
Some players who have already used e-checks have reported that their bank accounts over drafted. This happens due to people not being aware that electronic check payments do not automatically deduct from the bank account, even if they are instantly posted to the gambling account you had used. This means that, like paying with a real check, the funds may not be deducted instantly. You may have to wait a few days for the funds to actually disappear from your account.
Needless to say, electronic checks are some of the fastest payments around, as well as highly secure. Electronic checks are nearly impossible to steal or duplicate, and these payments are pretty much guaranteed by your bank. Credit cards may sometimes fail to deposit, but electronic checks never have such complications. You will simply have to provide the requisite numbers and your money should be added instantly. Online casinos, poker rooms, and sportsbooks all have at least one of these sites that accept e-checks deposits.
Tags: casino deposits, e-check deposits, e-check transfers, E-checks, e-checks withdrawals, echecks, echecksus, electronic checks, online casino deposit methods, USA echecks
Leave a Reply